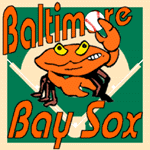 League Entry: 1996
Team Record: 944-838
Cup Titles: none
Team Owner: Rich Steidl
Trophy Case1: Division Title: 2001-2002,2004-2005
Trophy Case2: Johnson League Wild Card: 2003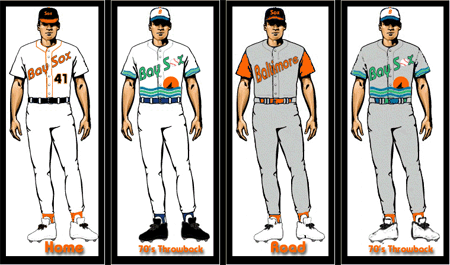 Team Jerseys
Team History
Edit
The Bay Sox came into the MBLS for the expansion season of '96 as the Baltimore Orioles. They finished 3rd in the JL Central at a 72-90 mark, 20 games behind a great Buffalo Bisons team. The second season was a flop, as the Birds flew into the cellar with an uninspired 68-94 mark, disappointing to say the least. A name change to the Blackbirds in '98 netted the franchise one more victory than the previous campaign, and excitement was at a fever pitch! (Not!). Another name change in '99 finally brought some semblance of baseball respectability to the fans of Baltimore as the Bay Sox skyrocketed to an 80-82 mark, 5 games ahead of the once mighty Bison club and only 2, count 'em 2 games behind the first place Spiders! WOW! The Bay Sox achieved their first winning season in 2000, posting a respectable 86-76 mark, good enough for 2nd spot, but 18 back of those darned Philadelphia Rebels! 2001 saw the Sox reach first place in a JL Central dogfight that went down to the last day of the season. Their record improved by only one win (87-75) but it was enough. The Sox were quickly disposed of by the venerable Gotham City Eighty-Sixers in a memorable and most enjoyable series.
The Sox dominated and reached the pinnacle of their history thus far in 2002, leading the Johnson League with 112 wins en route to their second JL Central title. They disposed of their divisional rival, the Miami Gators, in a tight five-game divisional playoff series -- but once again fell to Gotham City, 4 games to 1, in the JLCS. 2003 marked a minor setback, as Baltimore finished four games in back of Miami, but still managed to capture the JL wild card spot. The upstart expansion Bay City Sharks, though, made quick work of them in the 2003 divisional series.
2004 and 2005 brought two more divisional titles -- but more playoff pain at the hands of the Eighty-Sixers. The Sox took the Sixers to extra innings in the seventh game of an epic 2004 JLCS, but again the New York team prevailed to capture the JL pennant. Following a slightly more disappointing 86-win divisional title campaign in 2005, the Sox swept away Bay City in the divisional series. But the Sixers once again had their way with the Sox in a much more one-sided league championship series - defeating them in four straight games.
Sox fans looked forward to facing their playoff nemesis even more in 2006. After a league-wide realignment, Baltimore moved into the Johnson League East, looking to end the Sixers' run of divisional and playoff dominance.